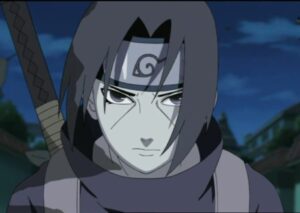 Itachi Uchiha (うちはイタチ) was a Japanese fictional character, a former member of Akatsuki, a former Anbu Captain, a former official of the Konoha Military Force, and the shinobi who exterminated the Uchiha Clan in the Naruto series created by Masashi Kishimoto.
Wiki/Biography
Itachi Uchiha, also famous as Itachi of the Sharingan and Clan Killer Itachi, was born on June 9 (Age– Part I: 17–18 and Part II: 21) in Konohagakure. His blood type is AB, and his zodiac sign is Gemini. Itachi completed basic shinobi training in Konoha's ninja academy. Being a highly skilled ninja from a young age, Itachi grew up to higher ranks of ninjas pretty quickly. He became a jonin at the age of ten and the captain of Anbu Black Ops at the age of 13.
Physical Appearance
Height (approx): 5'8"
Weight: 58 kg
Hairstyle: Long Spiky Hair
Hair Colour: Black
Eye Colour: Black
Gender: Male
Family
Clan
Itachi Uchiha belongs to the Uchiha Clan, one of the prominent and powerful clans in the Hidden Leaf Village. Known for their exceptional skills in fire-based jutsu and their distinct Sharingan eye, the Uchiha Clan held a deep history and legacy within Konoha.
Parents & Siblings
Fugaku Uchiha, the father of Itachi, was the leader of the Uchiha Clan.
Itachi's mother, Mikoto Uchiha, was a loving and caring mother.
Itachi also had a younger brother named Sasuke Uchiha.
Wife & Children
Itachi never married any girl, as he was deeply involved in the conflicts between Konoha and Akatsuki. However, Itachi has a niece named Sarada Uchiha, the daughter of his brother Sasuke Uchiha.
Love Interest – Girlfriend
In anime and novels, Izumi Uchiha had a crush on Itachi. It was never explicitly shown/mentioned whether he reciprocated this love to her or not. She was killed by Itachi (Obito Uchiha in the anime) in the process of the Uchiha Massacre in the manga.
Background
Itachi's early childhood was filled with violence as he witnessed the casualties of the Third Shinobi World War at the age of four. This traumatic experience made him develop a pacifist mindset. At the age of six, Itachi enrolled in the Ninja Academy and excelled in all subjects, displaying advanced skills. His teachers recognized his exceptional abilities and allowed him to take the graduation exam early, which he passed with ease. During this time, Itachi began studying the history of the world and developed a deep appreciation for it. Being the youngest post-war graduate, Itachi was approached by Danzō Shimura, who assessed his thoughts and mindset. At the age of eleven, Itachi joined the Anbu, becoming its youngest member. In the anime, he was assigned to Team Ro, working alongside Tenzo and under the leadership of Kakashi Hatake as their captain. By the age of twelve, Itachi was promoted to Anbu Captain, although his official promotion age was stated as thirteen due to Danzō's request and Hiruzen's acceptance. In the anime, he was also given command of his own three-man squad.
Itachi's accomplishments brought immense pride to his family, with his father seeing him as a symbol of the Uchiha clan's future success and his younger brother, Sasuke, looking up to him as a role model. Itachi spent significant time with Sasuke, training him and providing him with the recognition that their father failed to give. However, despite the attention he received, few truly understood Itachi. They believed his isolation emerged from the gap between his abilities and theirs. They were unaware of his deeper dissatisfaction with the constant conflicts of the shinobi life.
However, Itachi's life was flawed by the growing tension between the Uchiha clan and the rest of Konohagakure. Feeling the weight of his clan's expectations, Itachi became burdened with the responsibility to protect his family's honor and maintain peace within the village. As Itachi grew older, he became aware of a dark secret—the Uchiha clan was planning a rebellion against the village leadership. Faced with unimaginable difficulty, Itachi found himself divided between his loyalty to the Uchiha and his duty to Konoha. Determined to prevent further bloodshed and protect his younger brother, Sasuke, Itachi made the heart-wrenching decision to become an undercover agent for the village's higher-ups. Under the guise of a loyal Uchiha, Itachi infiltrated the ranks of the clan, gathering information. This path required him to make unimaginable sacrifices, including the murder of his own clan members. Not knowing Itachi's backstory, everyone, except the village's higher-ups, considered Itachi a traitor.
After Itachi made the difficult decision to leave the village, he entrusted the responsibility of looking after Sasuke to the Third Hokage, who promised to fulfill this duty. Itachi departed the village publicly as a traitor, but secretly he had a new mission: to infiltrate the organization known as Akatsuki, led by Tobi, and prevent them from posing a threat to Konoha. Upon joining Akatsuki, Itachi was initially partnered with Jūzō Biwa. However, their partnership was later changed, and Itachi was paired with Kisame Hoshigaki. The two developed a bond based on their shared reputation for eliminating their own fellow countrymen. During his time in Akatsuki, Itachi played a role in recruiting members such as Deidara and Hidan. At some point, Itachi contracted a terminal illness. He relied on medication with the sole purpose of living long enough to eventually face Sasuke and meet his end at his brother's hands.
Throughout his life, Itachi carried the heavy burden of secrecy and the weight of guilt. His actions were shrouded in mystery, as few knew the true extent of his sacrifices. Despite the toll it took on his mental and emotional well-being, Itachi remained committed to protecting Sasuke and ensuring the stability of Konoha. The background of Itachi Uchiha is one of tragedy, sacrifice, and unwavering dedication. His story is a testament to the complexities of loyalty, duty, and the choices one must make in the face of impossible circumstances. Itachi's journey would leave an unforgettable mark on the shinobi world and forever shape the destiny of his younger brother, Sasuke.
Creator
Itachi Uchiha, a beloved and complex character from the Naruto series, was created by Masashi Kishimoto. Kishimoto's creation of Itachi Uchiha showcases his talent for character development and storytelling. Itachi's layered personality, moral dilemmas, and tragic backstory fascinated fans worldwide. Kishimoto brilliantly integrated Itachi's conflicting loyalties, his role as a prodigious shinobi, and the weight of his burdens. Through Itachi, Kishimoto explored themes of sacrifice, duty, and the consequences of one's choices. Itachi's character arc, driven by his love for his brother and his commitment to protecting the village, added depth and emotional impact to the Naruto narrative.
Itachi Uchiha's backstory and character development underwent some changes during the creation of the Naruto manga. Initially, Masashi Kishimoto only had the idea of Itachi committing a violent act that would drive Sasuke to seek revenge. However, as the story progressed, Kishimoto decided to portray Itachi as a secret agent of Konoha who carried out the massacre of his clan under orders. Originally, Itachi was planned to be the leader of Konoha's Special Assassination and Tactical Squad, but this concept was later discarded in favor of his affiliation with the Akatsuki.
Among the characters in Akatsuki, Itachi is Kishimoto's favorite, mainly due to his tragic backstory. The Japanese voice actor for Itachi, Hideo Ishikawa, and Sasuke's voice actor, Noriaki Sugiyama, often discussed their characters and found Itachi's massacre of the Uchiha clan difficult to believe. They even referred to the Naruto manga to see if there was more to Itachi's actions. After Itachi's death, both actors acknowledged that ultimately, Itachi had served as a caring older brother to Sasuke. The English voice actor for Itachi, Crispin Freeman, expressed his satisfaction in voicing the character, regardless of how many times he revisited the series.
Development
A Skilled & Loyal Shinobi of Hidden Leaf Village
Masashi Kishimoto, the creator of Itachi Uchiha, carefully crafted the character's development, incorporating various attributes that shaped his complex personality. Kishimoto designed Itachi as a prodigious shinobi, gifted with exceptional talent and intelligence. To add depth to Itachi's character, Kishimoto infused him with a profound sense of duty and loyalty. Itachi's unwavering commitment to the village and his willingness to make difficult choices for the greater good showcased his self-sacrificing nature.
Complex Relation With Younger Brother
Another key aspect of Itachi's character was the deep bond he shared with his younger brother, Sasuke. Kishimoto highlighted their complex relationship with themes of love, guilt, and the weight of responsibility.
Mental Breakdown Of The Character
Furthermore, Kishimoto explored Itachi's psychological struggles with themes of loneliness, despair, and the burden of secrets. Itachi's internal conflicts humanized his character and gained sympathy from the audience.
Story/Mission
Naruto Part I
Itachi's primary mission was to protect Konohagakure, the Hidden Leaf Village, from internal conflicts and the potential rebellion of his own clan. The Uchiha clan's growing anger towards their mistreatment in the village led them to plan a coup d'état. Itachi, however, understood that such an uprising would have severe consequences, potentially sparking another war. He chose to become a double agent, providing information about the Uchiha's activities to the Third Hokage and the Konoha Council, hoping to find a peaceful resolution.
During his efforts, Itachi met his father in the basement of the Naka Shrine. His father revealed his possession of the Mangekyō Sharingan and shared his plans for a bloodless revolution. His father's plan was to use the power of Nine-Tailed Fox to control the village leadership. However, Itachi returned to the Konoha Council with this information.
While the Third Hokage still sought negotiations with the Uchiha, Danzō Shimura recognized that there was no longer a possibility of the Uchiha clan's survival. He presented Itachi with a choice: support the Uchiha coup and watch the entire clan, including Sasuke, get killed in the conflict, or accept the task of eliminating the clan before the uprising to spare Sasuke's life. Itachi chose to protect his brother. As his final duty in the village, Itachi met with the Third Hokage and informed him that his mission was accomplished, surprising and disappointing the Third. Itachi entrusted Sasuke's well-being to the Third and left the village. He was given the title of a traitor publicly but secretly embarked on a new mission: to infiltrate the organization led by Tobi, known as Akatsuki, and prevent any harm toward Konoha.
After the attack on Konoha and the death of the Third Hokage, Itachi and Kisame secretly infiltrate the village. Kakashi notices them and sends Asuma and Kurenai to confront them. Asuma and Kurenai struggle against Itachi and Kisame, but Kakashi arrives just in time to save them. Itachi and Kakashi engage in a duel, but Itachi proves to be much stronger and uses a powerful genjutsu called Tsukuyomi on Kakashi. However, Kakashi withstands the attack and reveals that he knows about Akatsuki's plan to capture the Nine-Tails. Itachi orders Kisame to capture Kakashi and kill the others, but they are interrupted by Might Guy. With the situation escalating, Itachi and Kisame decide to retreat. Itachi then pretends to chase after Naruto, the Nine-Tails' host, in order to secretly inform Konoha about Akatsuki's intentions. They track Naruto to Shukuba Town, but Jiraiya, Naruto's protector, arrives to confront them. Shortly after Jiraiya, Sasuke arrives at the scene seeking revenge, but Itachi easily overpowers Sasuke and attacks him with his genjutsu. Itachi's main purpose for returning to Konoha is to remind Danzō Shimura and the Konoha Council not to harm Sasuke.
Naruto Part II
During the mission to seal the One-Tail, Akatsuki realizes that Konoha ninjas are approaching their location. Kisame volunteers to delay Team Guy, while Itachi volunteers to delay Team 7. Nagato creates a body double of Itachi using his Shapeshifting Technique, controlled remotely by him. The fake Itachi engages in battle with Team 7. Despite being impressed by Naruto's growth, Itachi manages to trap him in a genjutsu where he taunts Naruto for his failures to protect his friends, especially Sasuke. However, Naruto's teammates break the genjutsu and they continue fighting. The weakened body double of Itachi is eventually defeated by Naruto's powerful attack, the Big Ball Rasengan. Even though he is defeated, Itachi successfully buys enough time for the Akatsuki to complete the sealing of the One-Tail.
Sensing his impending death, Itachi sends a shadow clone to meet with Naruto. Despite Naruto's initial attack, Itachi insists on talking and asks Naruto about Sasuke's importance to him and what he would do if Sasuke turned against Konoha. Naruto declares his loyalty to Sasuke as a brother and vows to defend the village without killing him. Satisfied with Naruto's response, Itachi gives him a special crow containing Shisui's Mangekyō Sharingan, which will activate to protect Konoha if someone with Itachi's eyes threatens the village. The shadow clone disappears, and another clone leads Sasuke to an Akatsuki lair. Sasuke attacks the clone and convinces Itachi that he has become strong enough. The clone arranges to meet Sasuke at the Uchiha Hideout, allowing only him to enter while Kisame guards the perimeter.
During their battle, Itachi reveals information about Tobi (Madara) and the mysteries of the Mangekyō Sharingan, expressing disappointment that Sasuke hasn't awakened his own Mangekyō. Itachi proposes using Sasuke's eyes to obtain the Eternal Mangekyō. The genjutsu is broken, and the real fight begins. Itachi fights Sasuke for a long time only to draw out Orochimaru. As soon as Itachi succeeds in drawing out Orochimaru, Itachi seals him away with Susanoo's Sword of Totsuka, removing Sasuke's cursed seal in the process. Itachi's condition worsens, but Susanoo continues to protect him. Itachi approaches Sasuke, but instead of taking his eyes, he pokes Sasuke's forehead, sealing Amaterasu in Sasuke's eyes as a defense against Tobi. Itachi genuinely smiles and apologizes to Sasuke. In the end, he dies with a smile on his face.
During the Fourth Shinobi World War, Itachi is summoned as a reincarnated ninja alongside Nagato. They discuss being pawns of Tobi in Akatsuki and their lack of knowledge about the organization. Naruto and Killer B find them, and Itachi learns important information: Naruto has control over the Nine-Tails, Kisame is dead, and Sasuke is working with Akatsuki to destroy Konoha. Itachi and Nagato fight Naruto and B under Kabuto's control, but Itachi uses a crow he planted in Naruto to break free and protect Konoha. Itachi joins forces with Naruto and B to defeat Nagato, using Amaterasu and saving them from harm. They destroy Nagato's summons and work together to overcome his Chibaku Tensei. Itachi seals Nagato away with the Sword of Totsuka and decides to confront Kabuto to end the Impure World Reincarnation. Before leaving, Itachi destroys the crow and Shisui's eye to prevent them from falling into the wrong hands and entrusts Sasuke's redemption to Naruto.
Nagato helps Itachi find Kabuto's location, and Itachi heads straight there. He unexpectedly encounters Sasuke on the way, but tries to avoid him. Eventually, Itachi admits his mistakes and apologizes to Sasuke for manipulating him. As they near Kabuto's location, Itachi tries to shake off Sasuke, but Sasuke insists on joining him. Itachi blocks Sasuke's attempt to kill Kabuto, explaining that they need him alive to end the Impure World Reincarnation. Sasuke agrees to help, and they engage in battle with Kabuto. Kabuto uses Sage Mode and launches sneak attacks, but Itachi defends Sasuke and reminds him of their past mission together. Itachi and Sasuke manage to trap Kabuto in Izanami, a genjutsu that forces him into an eternal battle. Itachi entrusts Sasuke with the task of ending the Impure World Reincarnation while revealing the truth about himself. As the Impure World Reincarnation breaks, Itachi shares his memories and accepts Sasuke as an equal. He expresses his love for Sasuke and then disappears as his soul returns to the afterlife.
Battles
Kisame and Itachi, operating as members of the Akatsuki, were assigned the task of locating and capturing the Nine-Tails jinchuriki. Despite their attempts to remain undercover, they were quickly detected and confronted by the vigilant jonins of Konoha. However, Kisame and Itachi had no intention of surrendering quietly or giving up. Initially, Kisame and Itachi were confident in their ability. Facing Asuma, Kakashi, and Kurenai, they believed they had a good chance of success. However, the intensity of the battle attracted the attention of the taijutsu prodigy, Might Guy. Guy possessed the ability to fight opponents without relying on eye contact and had a fighting style that couldn't be countered by Samehada, Kisame's weapon. He proved to be a perfect match against both opponents. As they did not want the reinforcements of Konoha to arrive at the scene, Kisame and Itachi were left with no choice but to retreat.
Following the confrontation with the Konoha jonin, they remained determined to carry out their mission. They targeted Naruto's hotel and planned to abduct him in broad daylight. Itachi devised a clever strategy by using genjutsu to manipulate a local woman into seducing and distracting Jiraiya, Naruto's mentor. The plan was to buy enough time for them to complete their mission before Jiraiya could intervene. However, Jiraiya reached the hotel on time and confronted those two Akatsuki members. In the battle, Itachi and Kisame were ultimately swallowed by a giant toad. Although they possessed enough strength to escape Jiraiya's prison, they knew that doing so would create a significant disturbance and attract reinforcements from Konoha once again. With no choice but to retreat and avoid further confrontation, Kisame and Itachi left the village empty-handed. Their mission to abduct Naruto had failed, and they were aware that continuing to engage would only lead to more trouble.
At some point, Itachi was given the task of preventing Kakashi, Naruto, and their allies from reaching the headquarters where the extraction of the Bijuu from Gaara was taking place. The battle between Itachi and the group was intense, involving the use of genjutsu and various combat techniques. However, Naruto eventually launched a powerful final attack in the form of his Odama Rasengan stance.
After being resurrected and controlled by the Edo Tensei, Itachi had a chance to have a rematch with Naruto. This time, Naruto had the support of Killer Bee, and Itachi received assistance from Nagato, who used his Rinnegan abilities. Although Itachi was unable to defeat Naruto or Killer Bee in combat, he achieved a different kind of victory. Itachi devised a clever plan to regain his freedom. He cast a genjutsu on himself, allowing him to break free from Kabuto's control and regain his own free will. This unexpected move surprised Kabuto and disrupted his control over Itachi. With his mind no longer manipulated, Itachi was able to make his own choices and act independently. Itachi's escape from the Edo Tensei and reclaiming of his free will was a significant triumph. It allowed him to pursue his own goals and protect those he cared about.
During the Fourth Great Ninja War, Sasuke and Itachi had a reunion inside a cave. But they had a more pressing task at hand: dealing with Kabuto, who was still a threat and needed to be defeated in order to put an end to his Edo Tensei army. To the surprise of both the Uchiha brothers, Kabuto displayed remarkable competence. His exceptional durability, powerful healing abilities, and incredible speed made it appear nearly impossible to overcome him. The Uchiha brothers relied on their Susanoo to protect themselves, but it seemed like their time was running out. However, Itachi found a way to win this fight. He used his own forbidden technique called Izanami. By subjecting Kabuto to the Izanami, Itachi trapped him in a loop. This loop forced him to relive the same fight repeatedly until he acknowledged his mistakes and the consequences of his own arrogance. This unique and powerful technique ultimately led to Kabuto's transformation, as he gained a new perspective and realized the need to change his ways.
Since his introduction, Sasuke's primary motivation has been to seek revenge for his family and clan. After acquiring knowledge and skills from Orochimaru, the time finally came for Sasuke to carry out his long-awaited vengeance. He confronted his brother, Itachi, in a hidden Akatsuki hideout, while Suigetsu engaged in a battle with Kisame outside. There was only one possible outcome envisioned by Sasuke: he would either kill Itachi or die in the attempt. As the fight unfolded, Sasuke had grown significantly in strength and skill, and he reached a point where he could defeat his brother. However, two crucial factors played a significant role in Sasuke's victory. Firstly, Itachi was battling a serious illness that weakened him. Secondly, and perhaps most importantly, Itachi had always intended to let Sasuke kill him. Ever since he had betrayed their clan, Itachi was aware that his life was limited, and he used his time to develop Sasuke's potential as the future defender of Konoha.
Victories
Eliminating the Uchiha Clan: Itachi's most significant victory, though tragic, was successfully carrying out the mission to exterminate the Uchiha Clan. While this act brought great personal suffering to Itachi, it prevented a potential civil war within the Hidden Leaf Village and protected the village from a powerful uprising.
Joining Akatsuki and Gathering Intelligence: Itachi infiltrated the criminal organization Akatsuki as a spy for Konohagakure. Through this role, he gathered valuable information about Akatsuki's plans and activities, contributing to the efforts to counter their dangerous actions.
Protecting Sasuke: Itachi's actions, though covered in secrecy and deception, were ultimately aimed at protecting his younger brother, Sasuke. Despite the emotional and physical toll it took on him, Itachi sought to keep Sasuke safe by ensuring that he would become strong enough to grow the Uchiha Clan and protect himself from the dangers of the shinobi world.
Failures
Psychological and Emotional Burden: Itachi carried the heavy burden of annihilating his own clan, resulting in immense guilt and trauma. He sacrificed his own reputation and subjected himself to being perceived as a traitor, enduring the weight of his actions for the greater good.
Misunderstanding and Strained Relationship with Sasuke: Itachi's attempts to protect Sasuke resulted in confusion, anger, and resentment from his younger brother. Their relationship suffered greatly due to Itachi's secretive actions, leading to Sasuke seeking vengeance against him.
Falling Terminally Sick: Itachi's battle with a terminal illness, intensified by his frequent use of the Mangekyou Sharingan, weakened him physically. His premature death prevented him from fulfilling his aspirations.
Enemies/Rivals
While Itachi was a member of Akatsuki, he still served as the protector of Konohagakure. He infiltrated this criminal group to keep a closer eye on their moves toward Konoha.
Obito, also known as Tobi, was one of Itachi's foes and a fellow member of Akatsuki. While Obito knew the truth about Itachi, he never revealed his true identity to Itachi. Itachi even implanted a deadly spell in Sasuke's eyes, which would activate if Sasuke sees Obito.
Danzo, a high-ranking official in Konohagakure, held conflicting views with Itachi regarding the Uchiha clan's fate. Their opposing perspectives and approaches to handling the Uchiha situation created tension and made Danzo one of Itachi's enemies. It was Danzo who ordered Itachi to eliminate the Uchiha Clan. Although Itachi understood the situation and accepted this task, he was suspicious of Danzo's intentions. After completing the Uchiha massacre, Itachi delivered a warning to Danzō through his crow clone, threatening to reveal Konoha's secrets to enemy villages if he harms Sasuke.
Kabuto, a former ally of Orochimaru, became one of Itachi's enemies during the Fourth Great Ninja War. Their encounters were marked by Kabuto's attempts to manipulate and control Itachi.
Friends/Allies
Shisui was not only Itachi's close friend but also his trusted ally. At the age of 5, Itachi was approached by Shisui, who proposed the idea of training together. They quickly developed a strong friendship and formed a bond similar to that of brothers. They spent their time teaching each other new techniques and skills. Shisui was a source of inspiration for Itachi. Shisui's tragic death deeply affected Itachi and influenced his decisions.
While initially an enemy as a member of Akatsuki, Kisame developed a unique camaraderie with Itachi. Their shared experiences as members of the organization developed a bond of mutual respect and understanding.
Despite being on opposing sides, Itachi saw potential in Naruto and recognized him as the key to changing the ninja world. In a way, Itachi became an ally to Naruto, sharing vital information and guidance to help him grow. Furthermore, Itachi was one of the few villagers in Konoha who held no grudge against Naruto Uzumaki. He saw Naruto as the greatest victim of the Nine-Tails attack and empathized with his struggles. Whenever they crossed paths by chance, Itachi showed kindness and understanding towards Naruto.
Itachi had a complicated relationship with the elders of Konohagakure. They recognized Itachi's talents and entrusted him with difficult missions, including the task of monitoring the Uchiha clan.
At the age of 11, Itachi became the youngest member to join the Anbu, an elite shinobi force. In the anime, he was assigned to Team Ro, where he worked alongside Tenzo, also known as Yamato, and had Kakashi Hatake as his captain. Itachi developed a close relationship with him and took an interest in Kakashi's Sharingan, despite not being an Uchiha himself. Together, Itachi and Kakashi formed a two-man squad and participated in various missions, including one involving an exchange between Konohagakure and the Prajñā Group of the Land of Woods. They worked together for two years. However, eventually, Itachi was promoted to a new Anbu team under the authority of Danzō.
Izumi was a fellow Uchiha clan member and Itachi's childhood friend. Itachi held affection for and was aware of her feelings towards him, so he made a kind decision before killing her. He casts a powerful Tsukuyomi on her, a genjutsu that allowed her to experience a lifetime of happiness and fulfillment in a brief moment.
After becoming a member of Akatsuki, Itachi was initially teamed up with Jūzō Biwa. They quickly adapted to their new environment and worked together effectively. However, their partnership took a turn during a mission in the Land of Water. Following the completion of their mission, they were unexpectedly attacked by a squad of hunter-nin led by Yagura, the perfect jinchūriki. Itachi managed to overcome Yagura using his powerful technique, Amaterasu. Sadly, Jūzō lost his life during the intense battle. Itachi showed respect for his previous partner, Jūzō, by placing Jūzō's signature weapon in his hand after his death.
Tenmo Izumo and Shinko Inari were members of Team 2, led by Yuki Minazuki. Although they were not directly associated with Itachi Uchiha, they were fellow shinobi from the Hidden Leaf Village and served as his comrades. While their interactions with Itachi may have been limited, their shared experiences as shinobi formed a sense of teamwork. During a mission to guard the Fire Daimyō, Itachi's team, Team 2, encountered a masked individual. This masked individual attacked Team 2. In the midst of the chaos, Tenma Izumo, Itachi's teammate, was killed before Itachi's eyes. This tragic event triggered Itachi's Sharingan, causing his eyes to awaken.
Personality
Itachi's MBTI personality type is INFJ. From a young age, Itachi possessed remarkable qualities of calmness and insight. Despite his numerous accomplishments, immense talent, and widespread recognition, Itachi remained humble, and also never underestimated the capabilities of others. Itachi's words were often unbiased and accurate. Itachi would openly acknowledge the strength and skill of opponents who surpassed his expectations. Despite his passive nature, Itachi unintentionally gained many friends and admirers due to his genuine concern for others. His compassionate and kind nature attracted people around him. Even as a seven-year-old, his reasoning skills were on par with those of a Hokage. His studies extended beyond the history of his own clan or village. This way, he possessed a deep knowledge and appreciation of world history, which allowed him to have a broader perspective on what truly mattered. However, despite his intellectual prowess, Itachi was still relatively naive in many real-world scenarios, particularly as a child. He was open to learning from his peers and sought guidance on how to differentiate and navigate complex situations. Itachi preferred to observe individuals and ideas from a distance.
Itachi's philosophical nature led him to think deeply about the nature of shinobi, the origins of the village, and its future. Unlike many Uchiha who held a strong loyalty to their clan, Itachi did not possess moral loyalty to his own family. While he loved his family and desired the best for them, he believed that there were greater priorities and more important things at stake beyond the personal aspirations of the Uchiha. This perspective set him apart from the common mindset within his clan. Interestingly, Itachi had a dream of becoming Hokage, although he kept this aspiration hidden from others. Itachi believed in the greater good and wanted to contribute to the betterment of Konoha as a whole.
Itachi's pacifistic nature prevented him from fighting whenever possible. He preferred to use his skills in genjutsu to weaken his opponents and end conflicts with minimal harm. Itachi understood the consequences of violence and sought to resolve conflicts with as little damage as possible. When forced into actual combat, Itachi aimed to end the fight quickly. He would hold back his true power and techniques, only using what was necessary to achieve his objectives. Itachi's approach to combat was driven by his desire to minimize casualties and protect the greater good. He believed that his own needs and desires were secondary to the well-being of others and the preservation of peace. Itachi trained tirelessly to improve his skills and become stronger, not for personal gain or glory, but to be of utmost use to his comrades and protect his village.
Itachi's complex and conflicting nature is evident in his approach to the Uchiha Clan Downfall. As a peace-loving individual, he desired a peaceful resolution that would spare his family and avoid unnecessary bloodshed. He understood the potential consequences of an Uchiha coup. However, when the Uchiha Clan showed no signs of backing down, Itachi was forced to make a difficult and heartbreaking decision. He realized that the path with the least bloodshed and the best chance of preserving peace was the elimination of his own clan. When confronting his parents, Itachi's usual polite behavior turned more violent, reflecting the immense emotional trauma he was experiencing. Itachi's hesitation and tears while carrying out the act describe the depth of his pain.
Itachi's merciless side was seen when the safety or honor of those he loved was at stake. While he usually avoided violence and preferred peaceful resolutions, there were instances where he resorted to extreme measures to protect his loved ones or exact revenge. In the case of Yashiro Uchiha, who manipulated Itachi's father and played a role in provoking the war against Konohagakure, Itachi used his Tsukuyomi to make Yashiro experience mental and physical torture. Similarly, when Itachi learned of Sugaru's involvement in poisoning his dear friend Shisui, he took revenge by using Tsukuyomi.
Itachi's love for his younger brother, Sasuke, was supreme in his life. He took the responsibility of protecting and guiding Sasuke by taking on the role of a parent figure as they grew up. Itachi spent quality time with Sasuke, creating special memories and adventures in the woods around Konoha. He would prioritize Sasuke's happiness over his own and even go against their father's wishes to ensure his brother's well-being. Sasuke idolized his older brother and aspired to be like him. He often requested Itachi to train him. However, Itachi would often postpone his request for training together. Unfortunately, he was unable to fulfill those promises.
Itachi's experiences, particularly the Uchiha Clan massacre, had a deep impact on his character and worldview. Despite the traumatic nature of his mission, he did not develop hatred toward Konoha's elders who ordered him to carry it out. However, he was suspicious of Danzō due to his questionable methods and motives. After the massacre, Itachi underwent significant changes, becoming emotionally detached and rarely displaying his true feelings. Itachi's transformation did not completely wipe out his pacifistic nature, as he still tried to avoid unnecessary confrontations and protect others from harm. He sometimes let his partner Kisame handle things alone, though he would help him when necessary to avoid excessive damage. Despite his seemingly cold attitude, Itachi possessed a strong moral belief. He expressed disgust at Orochimaru's disregard for human life. He maintained a good friendship and partnership with Kisame, even though they had their differences.
Itachi's decision to carry out the Uchiha massacre was driven by his desire to protect Sasuke. He believed that sacrificing his own soul was a necessary price to pay for Sasuke's safety. Itachi took on the burden of being viewed as a villain in order to hide the truth from Sasuke. Throughout their encounters, Itachi taunted Sasuke for being weaker than him, intentionally portraying himself as a cold and heartless older brother. He wanted to fill Sasuke's desire for revenge and motivate him to become stronger. Itachi's ultimate goal was to make Sasuke skilled shinobi so that one day he can die at his brother's hands. Itachi believed that by eliminating himself, Sasuke would be hailed as a hero and be free from the weight of the Uchiha massacre's truth. Itachi believed it would be better for Sasuke to remember him as a hateful older brother rather than learn the painful reality.
After his reincarnation, Itachi gained a new perspective on his past actions and the flaws in his original plans. He realized that his attempts to manipulate Sasuke and keep him in the dark had backfired. He acknowledged his own mistakes and the need for honesty and trust. Itachi accepted his true self and let go of his fabricated evil personality. He placed his trust in Naruto Uzumaki to help guide Sasuke away from the path of darkness. Itachi also showed empathy towards his enemy Kabuto Yakushi, recognizing the similarities in their arrogance and the potential for failure that comes with it. Itachi encouraged self-reflection and rejected the notion of perfection, reminding Sasuke that no individual can achieve true perfection. He apologized to Sasuke for failing in his responsibilities as an older brother. He wondered if being more faithful to him from the beginning could have prevented the Uchiha clan's destruction. In their final moments together, Itachi told Sasuke that he did not need forgiveness and expressed his eternal love for him.
Knowledge: 10/10
Creativity: 9/10
Initiative: 8/10
Emotional Strength: 10/10
Social Skills: 9/10
Involvement: 8/10
Outfit
In Konoha, Itachi would usually wear a black shirt with the Uchiha clan symbol on the back, bandages around his ankles, and black sandals. He had tan pants with a weapons pouch on his back.
When he had important missions, he wore the Anbu uniform with arm guards, a flak jacket, and a porcelain mask shaped like a weasel with a red marking on the top.
As a member of Akatsuki, Itachi wore the standard Akatsuki cloak and a torn Konoha forehead protector to show that he had cut ties with the village. The collar of the cloak was high, covering his ponytail. Sometimes, he would unbutton the cloak to his chest and rest his left arm there instead of in the sleeve. Under the cloak, he wore clothes similar to other Akatsuki members, including mesh armor with navy accents, a T-shirt with a white belt around the waist, and dark blue pants. He also had a red Akatsuki ring on his right ring finger, and he wore light blue nail polish on his fingers and toes. He had a necklace with three silver rings that had red gems inside them.
When he was brought back to life by Kabuto using the Impure World Reincarnation technique, Itachi was seen wearing a maroon long-sleeved cloak like the other revived ninjas. He still wore his dark blue pants and black open-toed sandals.
Abilities
Chakra Transformations
Itachi, being an Uchiha, possessed naturally strong chakra. Even at a young age, he displayed exceptional control over his chakra. Itachi was proficient in multiple nature transformations, including Fire, Water, Wind, Yin, and Yang Release. As an Uchiha, he had a natural talent for Fire Release and was able to master the clan's signature technique, the Great Fireball Technique, at a young age. Furthermore, he was capable of breaking a large boulder with his strikes, which could have easily harmed multiple people. However, his overall chakra reserves were limited due to his terminal illness. Despite this, during the Uchiha Massacre, Itachi was able to use his Mangekyō Sharingan five times without experiencing significant exhaustion.
Taijutsu
Itachi was skilled in taijutsu, the art of hand-to-hand combat. At the young age of 11, he easily defeated three members of the Konoha Military Police Force. He was known for his impressive speed and reflexes, able to keep up with renowned shinobi like Shisui and Naruto, even when they were using their powerful Nine-Tails Chakra Mode. Itachi's speed was particularly evident in his hand movements, as he could perform hand seals so quickly that they were almost unnoticeable. Even skilled users of the Sharingan had difficulty following his hand movements. He also mastered the Body Flicker Technique, which allowed him to instantly move great distances, making it difficult for his opponents to react or counter-attack.
Intelligence
Itachi was an exceptionally intelligent individual. In the Chūnin Exams written test, he achieved the second-highest scores in history, surpassed only by Minato Namikaze. He possessed a composed and observant nature, allowing him to think quickly and maintain a calm attitude during fights. This way, he could respond efficiently and accurately, minimizing the chances of misjudging the situation. From a young age, Itachi smartly dealt with every situation, leaving little room for error. He took numerous precautions to protect Sasuke and counter Tobi's plans. Even Tobi acknowledged that Itachi's knowledge and strategies posed a significant threat, and if he hadn't kept certain secrets from Itachi, he would have been killed by one of his traps. Additionally, during his undercover mission in Konoha, Itachi managed to inform Kakashi, Kurenai, Asuma, and Jiraiya about Akatsuki's goals without raising suspicion from his partner Kisame.
Sharingan
He awakened the Sharingan at the age of 8 after witnessing the death of his teammate, Tenma Izumo. He quickly mastered its usage and became renowned as the "Itachi of the Sharingan." Itachi often kept his Sharingan active for long periods with minimal chakra drain. This way, he could constantly perceive the flow of chakra, predict his opponents' movements, and effectively use genjutsu. Almost all Naruto characters are well aware of the dangerous effects of making direct eye contact with Itachi, and therefore, they are cautious not to fall victim to his illusions.
Mangekyou Sharingan
After witnessing the suicide of his friend Shisui, Itachi awakened the Mangekyō Sharingan, which had a distinct design of three spiraling curves around the pupil. Each eye granted him unique abilities. With his right Mangekyō Sharingan, Itachi could perform the Amaterasu technique. Using either eye, Itachi could cast the Tsukuyomi genjutsu, which created an illusory world of his own design.
Shurikenjutsu
Itachi possessed exceptional skills in shurikenjutsu, a technique involving the use of throwing weapons. Even as a child, he demonstrated remarkable accuracy and precision by hitting a set of eight targets, including one hidden in a blind spot. He had mastered the art to such a degree that his throwing speed was undetectable and was able to nullify the advantages of opponents who relied on lightning-fast sword techniques. Itachi's expertise in throwing shuriken, kunai, and other ninja weapons impressed the ANBU members. He could also flip in the air while accurately hitting the center of multiple targets with his projectiles. Not only could Itachi throw weapons with great accuracy, but he also excelled at dodging incoming projectiles.
Jutsu/Skills
Crow Clone Technique
The Crow Clone Technique, used by Itachi, offers similar advantages to the Shadow Clone Technique but with the added benefit of requiring less chakra. Instead of disappearing in a puff of smoke like a Shadow Clone, Itachi's clone transforms into multiple crows that fly away in different directions. This technique is particularly useful for Itachi due to his relatively lower chakra reserves compared to many other characters in Naruto.
Fire Release: Fireball Jutsu
the Fire Release: Fireball Jutsu involved molding chakra into fire nature and expelling it as a powerful fireball. Itachi could unleash a large and destructive fireball from his mouth, capable of causing immense damage to both the surroundings and his enemies. The intensity and range of the fireball could be adjusted based on Itachi's chakra control and the amount of chakra infused into the jutsu.
Water Dragon Missile Technique
Itachi Uchiha also possessed the Water Dragon Missile Technique. By using his chakra, Itachi could create a massive water dragon that could be manipulated and directed to attack opponents. The water dragon was capable of striking with great force.
Fire Release: Phoenix Sage Flower Nail Crimson Technique
Itachi performs a powerful combination of shurikenjutsu and Fire Release to execute the Fire Release: Phoenix Sage Flower Nail Crimson technique. He initiates the technique by emitting a stream of fire. Then, he launches his shuriken into the flames, causing them to ignite and become even more destructive upon contact with the target. Even if the opponent attempts to extinguish the flames, the shuriken continues its trajectory.
Demonic Illusion: Mirror Heaven and Earth Change
Itachi possesses a powerful genjutsu technique known as Demonic Illusion: Mirror Heaven and Earth Change. This technique can turn his opponent's genjutsu against them. A notable example is when Kurenai, a skilled jonin specializing in genjutsu, attempts to trap Itachi with her own genjutsu. However, Itachi skillfully reverses the effects of her attack, causing Kurenai to fall victim to her own illusion.
Demonic Illusion: Shackling Stakes Technique
His Sharingan has the ability to cast illusions that can cause intense mental and physical torture on his opponents. One such technique is the Demonic Illusion: Shackling Stakes Technique, which Itachi uses to immobilize Orochimaru by creating the illusion of stakes piercing his body. This terrifying illusion forces Orochimaru to retreat from the battle.
Tsukuyomi
Itachi's left Mangekyo Sharingan can perform Tsukuyomi, which is a powerful genjutsu technique. By making eye contact with his opponent, Itachi can activate Tsukuyomi and subject them to a different realm. Within this illusion, time is distorted, and the victim experiences intense torture for a very long period. The psychological and physical suffering caused by Tsukuyomi is incredibly realistic, leaving the target traumatized. However, characters in the Naruto universe who possess a sharingan or Mangekyo Sharingan have a higher resistance against Tsukuyomi compared to those without Sharingan.
Amaterasu
Itachi's right Mangekyo Sharingan can use Amaterasu, a powerful ninjutsu. Amaterasu releases black flames that ignite the target upon contact and continue to burn until the target is completely reduced to ashes. These flames are extremely difficult to extinguish, as conventional methods like water are ineffective against them. There are a few ways to potentially evade or counter Amaterasu. One method is to dodge this attack. Another approach is to absorb or manipulate black flames. Additionally, blocking Amaterasu with a strong chakra barrier or defense can provide temporary protection. However, not all characters in the Naruto universe possess the ability to avoid or defend against Amaterasu.
Izanami
Izanami is a powerful genjutsu technique that was originally designed to prevent Uchiha clan members from abusing the power of Izanagi. However, Itachi performs Izanami in a different manner. To activate Izanami, the user recreates a specific moment in time and initiates a loop that continues indefinitely until the target accepts their fate or meets the caster's conditions. Unlike Itachi's other genjutsu techniques, Izanami does not require direct eye contact. By subjecting Kabuto to the eternal loop of Izanami, Itachi aims to make him confront his past and seek self-acceptance. The technique serves as a tool for personal growth rather than a method of punishment.
Susano'o
Itachi's Armored Susano'o is equipped with two dangerous weapons: the Totsuka Blade and the Yata Mirror. The Totsuka Blade has the ability to seal anything it attacks. On the other hand, the Yata Mirror is a powerful shield capable of blocking any attack. The combination of these two weapons makes Itachi's Susano'o incredibly difficult to defeat. It possesses both overwhelming offensive capabilities and an unbreakable defense. However, using the Susano'o requires high chakra reserves.
Strength
Itachi possessed a keen analytical mind and strategic thinking, allowing him to assess situations calmly and make calculated decisions. He could come up with complex plans, counter his opponents' moves, and determine their weaknesses. Itachi could outsmart his opponents by thinking several steps ahead.
One of Itachi Uchiha's greatest strengths lay in his exceptional mastery of genjutsu, the art of illusionary techniques. His genjutsu skills were unparalleled. Using the power of genjutsu, he was able to manipulate the senses of his enemies, control their perception of reality, and even cause psychological trauma. He was even successful in trapping Kurenai, whose specialty was genjutsu, in his illusionary technique.
Weakness
Itachi was diagnosed with a terminal disease that greatly affected his physical condition. This illness weakens him, causing constant pain and discomfort. Additionally, it has a significant impact on his chakra reserves and stamina, reducing his overall energy levels and making it more challenging for him to perform certain jutsu.
Itachi carried the weight of his clan's demise and the burden of his double life, which could affect his mental and emotional state.
One of Itachi Uchiha's weaknesses was his reduced eyesight caused by the excessive use of his Mangekyou Sharingan. The Mangekyou Sharingan's powerful techniques, such as Tsukuyomi and Amaterasu, put a strain on Itachi's eyes. The more he relied on these abilities, the faster his eyesight worsened, eventually leading to complete blindness. This weakness made Itachi vulnerable in combat. After becoming bling, he used to rely on other senses to compensate for his loss of sight.
Equipment/Weapons
As a fully-trained Konoha Anbu, Itachi possessed skill in swordsmanship and was proficient in using a sword as his primary weapon, especially during the Uchiha Clan Downfall.
Signature Move
Itachi Uchiha was renowned for his exceptional skills in genjutsu. With his Sharingan, Itachi could cast powerful illusions that targeted his opponent's senses and perception, allowing him to manipulate their thoughts, emotions, and actions.
Appearances in Popular Media
Anime/Manga
Itachi was introduced in the Naruto anime in episode 80: The Third Hokage, Forever…
Itachi appeared in chapter 139 of Naruto manga: That Person's Name is…!!
Films
In the movie "Road To Ninja: Naruto the Movie," Itachi appears in an alternate world where the Akatsuki is hired by Konoha to help Naruto in his battle against Menma. During the fight, Itachi saves Sakura from being captured.
Video Games/Other Media
Fans can explore the power of Itachi through the following Naruto games.
Naruto Ultimate Ninja (2004)
Naruto Ultimate Ninja 3 (2005)
Naruto Shippuden Ultimate Ninja 4 (2007)
Naruto Shippuden Ultimate Ninja 5 (2007)
Naruto Ultimate Ninja Storm (2008)
Naruto Shippuden Ultimate Ninja Storm 2 (2010)
Naruto Shippuden Ultimate Ninja Storm 3 (2013)
Naruto Shippuden Ultimate Ninja Storm 4 (2016)
OVA
Itachi has appeared in Hidden Leaf Village Grand Sports Festival.
Novel
Itachi is featured in the following Naruto novels.
Itachi Shinden: Book Of Bright Light
Itachi Shinden: Book Of Dark Night
Akatsuki Hiden: Evil Flowers in Full Bloom
Stage Shows
Itachi is featured in Live Spectacle Naruto: The Akatsuki Investigation took place in the year 2017.
Voice Actors
Hideo Ishikawa and Yuka Terasaki voiced Itachi in Japanese, and Crispin Freeman and Robbie Daymond dubbed the English version. The other voice actors of Itachi in different languages are
Portuguese (BR): Reinaldo Rodrigues, Rúben Remédios
Spanish: Héctor Gómez Gil
Reviews/Reception
Itachi Uchiha is a highly popular character in the Weekly Shonen Jump polls, often ranking in the top 10. In 2011, he was placed fifth in the polls. In a 2023 online global poll celebrating the manga's 20th anniversary, Itachi was found to be the second most popular character in the series, second only to Minato Namikaze. Critics and fans have given Itachi positive reviews in various media, such as manga, anime, and video games. Many find him to be a strong and intimidating character, especially during his first fight in the series. IGN reader Jason Van Horn described him as "badass" and mentioned that Itachi's cold and emotionless personality gives viewers chills. The episode revealing the relationship between young Sasuke and Itachi was well-liked, and fans are eager to learn more about Itachi's past to unravel the mystery of his character. Itachi was also voted as the tenth favorite black-haired male anime character by NTT customers. Hiroshi Matsuyama, the CEO of CyberConnect2, mentioned Itachi as one of his favorite characters from Naruto.
Bamboo Dong from Anime News Network (ANN) says Itachi is one of her favorite characters in the series because of his background and introduction. Davey C. Jones from Activeanime thinks Itachi's fights are the best, and compares his abilities to a "sci-fi ninja." Holly Ellingwood from the same website agrees and thinks Itachi's fight against Kakashi Hatake is unforgettable. She also praises Itachi's attitude, saying he's as cold and ruthless as any villain.
Deb Aoki from About.com didn't like Itachi's introduction in Volume 16 of the manga, considering it a drawback. However, she praised his first fight as very entertaining and set the stage for future exciting battles between Konoha ninja and the Akatsuki. James Musgrove thought Itachi and Kisame made a dramatic entrance into the story. On the other hand, Jason Van Horn criticized the first battle between Itachi and Sasuke, feeling it could have been more epic. Casey Brienza from ANN found Itachi's last fight with Sasuke before dying to be epic, describing it as a battle of minds. She believed Sasuke's perception of Itachi changed after learning about his past and looked forward to its impact on the Naruto storyline. Chris Beveridge from the Fandom Post enjoyed Itachi's impact on Sasuke and Naruto, although he didn't like how the anime Shippuden used Itachi's light novel. Writer Jason Thompson praised Itachi's visual tortures and their effect on victims, comparing it to a horror film. However, he criticized Itachi's death scene, feeling that he should have been killed by Sasuke instead of dying from a disease, which made Sasuke blame himself. In 2014, IGN ranked Itachi as the fifth-best Naruto character when the series concluded.
Favorites
Food: Cabbage, Onigiri, Dango
Weapon: Kunai
Activity: Training, Studying, and Visiting Japanese Cafes
Death
In the battle between Itachi and Sasuke, Itachi's terminal illness makes him cough blood. As the fight reaches its climax, Itachi approaches Sasuke, creating an illusion that he desires Sasuke's eyes. However, instead of taking Sasuke's eyes, Itachi simply pokes his forehead, sealing Amaterasu within Sasuke's eyes to protect him from Tobi's Sharingan. Itachi, unable to maintain his fake personality any longer, genuinely smiles at Sasuke, apologizes to him, and acknowledges that this is the end. With a smile on his face, Itachi falls victim to his terminal illness and passes away, leaving Sasuke behind.
During the Fourth Shinobi World War, Itachi is brought back to life by Kabuto along with other Akatsuki members. After breaking free from Kabuto's control using Shisui's eyes, Itachi sets out to find Kabuto and undo the Edo Tensei technique. Along the way, he encounters his brother Sasuke, who insists on joining him. Together, they confront Kabuto and engage in a battle. Itachi successfully traps Kabuto in Izanami, a powerful genjutsu. With Kabuto under control, Itachi uses him to end the Impure World Reincarnation. During this time, Sasuke expresses his anger towards Konoha for manipulating Itachi and vows to continue his own path. As the Impure World Reincarnation is broken, Itachi confesses the truth to Sasuke and shows him his memories. He treats Sasuke as an equal and expresses his love and acceptance for him. Itachi's reincarnated body fades away, and his soul returns to the afterlife.
Facts/Trivia
After the conclusion of the Naruto series, a number of light novels were released that focused on the lives of various characters, including Itachi. Two of these novels focused on Itachi and provided insights into his backstory and experiences before the Uchiha massacre. These novels were later adapted into the anime. In these novels, Itachi's romantic interest was revealed to be a fellow Uchiha clan member named Izumi Uchiha. Izumi had feelings for Itachi for a significant portion of their lives. To give her a glimpse of happiness and fulfillment, Itachi used his Tsukuyomi genjutsu to create an illusionary world where they could live together. Itachi crafted this genjutsu dream world, allowing Izumi to experience life alongside him.
Masashi Kishimoto, the creator of Naruto, has confirmed that Itachi was his favorite member of Akatsuki. Kishimoto aimed to develop complex and multidimensional villains with compelling backstories, and Itachi's character aligns with that vision. The depth and complexities of Itachi's life and choices became crucial plot elements in the Naruto series, contributing to his popularity among fans and the admiration of the series creator.
Naruto Shippūden: Ultimate Ninja Storm Revolution included a short animated video featuring Itachi. It's a unique segment called Sunny Side Battle! In this video, Itachi tries to cook a flawless sunny-side-up egg, making sure there are no bits of the eggshell on the yolk. He uses his powerful Sharingan for this task, but despite his efforts, he keeps failing to achieve the perfect result. Itachi is determined to make the perfect egg before allowing Sasuke to eat any. He ends up using his even more powerful Mangekyo Sharingan multiple times to accomplish this cooking task.
Itachi's statistics in the databooks were among the highest, tied with Jiraiya. It's interesting to note that Itachi appeared genuinely afraid of facing Jiraiya in combat. Despite having Kisame as his ally, Itachi chose to flee from Jiraiya rather than engage in a fight. This highlights the level of respect and caution Itachi held for Jiraiya's abilities.
Initially, Masashi Kishimoto had planned for all the members of Akatsuki to have monstrous and inhuman appearances, except for Itachi. However, this concept evolved over time, and the final design of the Akatsuki members included a mix of both regular-looking individuals and those with inhuman features. Some members like Deidara, Pain, Konan, and Hidan had more human-like appearances, while others like Sasori, Kisame, Kakuzu, and Zetsu had more inhuman traits.
Juzo Biwa was a former ninja from Kirigakure and a member of the Seven Swordsmen of the Mist. He previously wielded the sword that Zabuza later used. Itachi and Juzo went on various missions, including one that occurred in the Land of Water. During their mission, they were pursued by the Fourth Mizukage, who was the leader of Kirigakure. Unfortunately, Juzo lost his life during the mission, creating a vacancy that was eventually filled by Kisame.
There appears to be a pattern in the personalities of the different genin teams in Konoha. It seems that each team consists of a cold genius and a competitive rival who constantly tries to match their skills. This pattern can also be observed in Itachi's team, where Itachi himself was a highly talented ninja even at a young age. He faced rivalry from his fellow genin on the team, Tenma Izumo.
After engaging in a deep conversation about the meaning of life and death with Orochimaru, Itachi makes up his mind to end his own life. However, at the very last moment, he has a change of heart and decides to continue living. Later on, Itachi discovers that his mother is expecting a child, who turns out to be his younger brother Sasuke. The news of Sasuke's birth serves as a powerful inspiration for Itachi to find a new purpose and continue his journey in life.
The Mangekyo Sharingan, possessed by Itachi and other Uchiha clan members, continued to evolve throughout Naruto. Initially, it granted the ability to trap people in powerful illusions and create inextinguishable black flames known as Amaterasu. However, during Itachi's fight against his brother Sasuke, he revealed a new power of the Mangekyo Sharingan called Susanoo. Susanoo is a powerful summon that requires a tremendous amount of chakra to sustain. The usage of Susanoo also causes damage to the user's body.
During Itachi's time in the Academy, he had not yet activated his Sharingan, despite being skilled in many areas of ninjutsu. It was a tragic event that led to the awakening of his Sharingan. When their team was attacked by Tobi, Itachi witnessed the death of his comrade Tenma. This traumatic incident caused Itachi to lose control and unlock his Sharingan for the first time.
The ability to perform hand seals with a single hand is considered a rare and impressive skill in the Naruto universe. Itachi is one of the few characters who possess this ability. Fans can witness it during his battle against Kakashi in Konoha. While performing hand seals, Itachi was able to keep shuriken prepared in his other hand, which made Kakashi cautious in his approach.
In "Itachi Shinden: Book of Bright Light," it is revealed that the Fourth Hokage, Minato Namikaze, was the highest-scoring student in the history of the Konoha Academy. Itachi Uchiha, on the other hand, was the second-highest scorer of all time. Interestingly, this detail is not brought up in the main story of Naruto, similar to many other aspects of Minato's life before his connection to Naruto is revealed.
At the age of four, Itachi encountered a wounded ninja from Iwagakure and offered him water. However, he was ultimately forced to kill the injured ninja by slashing his throat. Itachi's father then took the opportunity to explain to him the harsh reality of war and why it was crucial for him to witness and understand the brutality of the battlefield. This event played a significant role in shaping Itachi's perspective on the world and his future actions.
Itachi's version of Susanoo had unique features not seen in other Susanoos. It wielded the Sword of Totsuka, a mystical blade capable of sealing anyone it pierced. Additionally, it possessed the Yata Mirror, a shield with the power to defend against all forms of elemental attacks. The origin of these items within Itachi's Susanoo was not explicitly explained in the series.
Shisui Uchiha's ability, known as Kotamatsukam, had the power to manipulate the minds of others, implanting false memories and experiences. Unfortunately, one of Shisui's eyes was taken by Danzo before his death. In a selfless act, Shisui gave his remaining eye to Itachi and then took his own life, hoping that Itachi would awaken the Mangekyo Sharingan. At some point, Itachi implanted Shisui's eye into a crow and entrusted it to Naruto. The purpose was to alter Sasuke's personality if he were to follow the path of darkness. Some fans argue that using Shisui's eye on other major villains could have been beneficial.
While Itachi Uchiha was well-known for his combat skills and earned great respect within the Uchiha clan, he was not necessarily the most feared among its members.
During Itachi's final battle with Sasuke, Itachi's movements were dull. Tobi later reveals that Itachi was suffering from a terminal illness and was on the brink of death during the fight. According to Tobi, Itachi relied on strong medications available to sustain his life. In the novel Naruto Jinraiden: The Day the Wolf Howled, Sasuke discovers the origin of the medicine that Itachi used. Itachi had formed a friendship with two brothers who produced a powerful medicinal substance, which could also be converted into a highly addictive drug.
In the novel Akatsuki Hiden: Evil Flowers in Full Bloom, Itachi and Kisame face a group of ninjas from Kirigakure. During the battle, Itachi realizes that those two ninjas are twin brothers. Despite the fact that they have paralyzed Kisame and are actively trying to capture or kill Itachi, he is unable to bring himself to take their lives.
In the series, Itachi takes control of a ninja named Yura and is eventually killed by Naruto, who believes he is fighting Itachi. Itachi's decision to confront Naruto himself instead of letting another Akatsuki member handle the situation has been viewed as a cold-hearted move by some fans. They argue that this action, along with other instances, indicates that Itachi's soft side may have been a last-minute decision and not thoroughly planned out.
Itachi's actions were driven by a difficult choice he had to make to protect his brother, even if it meant sacrificing the rest of his clan. Despite the weight of his decision, his parents understood and were proud of him for fulfilling a destiny they had envisioned for him.
He was quick in acquiring new skills and expanding his knowledge. While other first-year students were still learning basic lessons, Itachi surpassed them in terms of both skill and knowledge. Due to his dedication and efforts, he was able to graduate from the Academy after just one year.
Itachi's name holds a symbolic meaning in relation to his character. The name "Itachi" translates to "weasel" in Japanese. While a weasel may not seem like a fitting representation of a powerful warrior, it does hold significance in regard to Itachi's actions and role in the story. The weasel is often associated with cunning and secrecy, which align with Itachi's abilities and the secretive nature of his mission. Additionally, weasels are known for their ability to manipulate and outsmart their opponents, reflecting Itachi's strategic mindset and his involvement in the complex political and emotional dynamics of the Uchiha clan.
Itachi and Kisame's cameo appearance in the Hidden Leaf Village Grand Sports Festival! showcases a lighthearted and humorous moment in the Naruto series. In this scene, Itachi and Kisame are depicted waiting in line to use the bathroom, along with numerous other characters from the series.
Itachi's nickname, "…of the Sharingan" (写輪眼の…, Sharingan no…), is not unique to him alone. It is also shared by Kakashi Hatake, a prominent character in the Naruto series.
Itachi has been ranked highly in the Shōnen Jump popularity polls for the Naruto series. His highest position is the fifth most popular character in the polls.
In total, Itachi accomplished 340 missions throughout his ninja career. Among these missions, he undertook 53 D-rank missions, 152 C-rank missions, 134 B-rank missions, and one S-rank mission. However, Itachi's mission count did not include any A-rank missions.
Itachi would often poke Sasuke in the forehead while uttering the words, "Forgive me Sasuke… Again, next time." This act held significant meaning between the two siblings. In his final moments, Itachi recalls this gesture and repeats it, gently poking Sasuke's forehead and expressing, "Forgive me Sasuke… …It ends with this." These words symbolize that he has reached the end of his path and is seeking forgiveness from Sasuke.